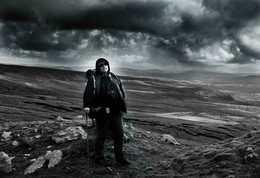 "Silence remains silent but the light is listening" JeanLoup Sieff
Martin Pociecha /The Solace/ - born in Poland in 1973, after completion of state College of Fine Arts, the faculty of artistic photography in Poland, commenced the studies at Academy of Fine Arts and Photography.
Now from many years, living and working as professional graphic and web designer also visual artist and photographer on North/West Coast of Ireland enchanted by a landscape, friendliness of people and gentle shades which the light of the mornings takes out of the darkness. Here, in the land of legends, country hidden from the world under a shroud of clouds and rain, Martin has found the sun and inspiration to work even more creatively.



Professional offer:
Print Design
colour management

pre-press

desktop publishing

Graphic Design




flyer, poster, brochure etc.

magazines, newspapers print layouts

digital publishing

tablet and web magazines, news papers

web page designs

photo and coffee table books design and layout




Commercial Photography




corporation photos

product and sale photos

on-line sale photos

advertising photos

photo restoration and manipulation




I am so sorry don't ask me for wedding and family occasion photo services, I don't do it.